Today is
CLEANING OUT THE CLOSET
on FTLOB...so I am reaching in the back of my "not-so-fond-memory" closet, and pulling out a little confession. We are supposed to learn from our mistakes, but clearly I am a slow learner!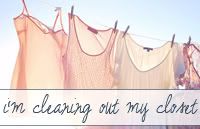 When I was in eighth grade, I decided one night to cut my hair! I remember going into the bathroom, closing the door, and using my mother's scissors to "trim" my bangs. With each snip, I could hear a voice inside of my head telling me this was a
BAD
idea!
I snipped from left to right, and evened them out from right to left...then left to right and right to left. With each clip I watched my bangs get shorter and shorter...
...then just as quickly as I had thought of this
stupid
crazy
dumb
idiotic
BRILLIANT
idea, I was looking into the mirror with bangs about 3/4 of an inch long!
HOLY SH*T
!! What had I done? Thankfully my mother was not home at the time. I remember thinking that maybe they would grow before she got back in an hour! Maybe she wouldn't notice! Maybe lightening would strike me while I was in bed and I could say the burns caused the loss of hair!
My only option was to open the door and show my older sister what I had done, and hope she would be understanding...and help me figure something out! I knew she was going to laugh, and I knew she was going to tease me...but I wondered if she would find it in her heart and help me fix this mess I had created. Slowly, I opened the door and stood there in front of her...
After crying about how I was just trying to make them even, and they just kept getting shorter...My sister continued stopped laughing, and said she would try to help me fix it. She went and found my mom's thinning-shears, and we went back into the crime scene bathroom. To make a long and painful story short yet still painful...my sister decided the best thing would be to take the top half of my hair and bring it forward...cut new bangs and have them hide the short ones...this was a great idea, in theory.
That inner-voice once again started yelling speaking to me...
Did my sister have any HAIRCUTTING EXPERIENCE!
How was I going to keep the hair forward?
Is it really best to cut more hair when you have already cut too much hair?
I once again decided not to listen the inner-voice...I told it to be quiet and mind it's own business!
My sister began to sculpt my new hairstyle...she snipped here and there, she thinned here and there. She snipped and thinned...thinned and snipped! Finally, I was able to look in the mirror. It was not bad at all! Yes, I had a few more bangs than before, but they covered the previous mess quite well. I didn't know how to thank my sister...she had truly saved me from eighth-grade-teasing-hell! Nobody would notice anything was different from the previous week at school...
Fast forward twenty-two years, and I once again am sporting bangs. So you would think I would have remembered the story I just told you about, and I would take advantage of my salon's FREE BANG TRIMS (no appointment necessary!). However, this morning I decided it would be a smart idea to trim my own bangs...
I took my scissors and started snipping left to right, right to left, etc. I had done it, I had evened..WAIT, that looks a little crooked...I will just snip a little on the left, there that's perfect! WAIT, I missed a spot...just a little snip and...NO, a little on the right...maybe a little more on the left...I think that will do...just one more snip...and done!
Remember in the back of Glamour magazine the Dos and Don'ts segment?
Well...I think I have a new entry!
QUESTION...DO YOU CUT YOUR OWN HAIR OR YOUR FAMILY'S HAIR?