Today's theme on FTLOB is Love Letters...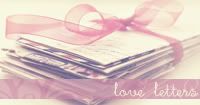 I have been wanting to do a post about THE LIST that my husband and I have had since we started dating. THE LIST has three famous people on it, and if you ever get a chance to have "relations" with that person...it is a free pass to do so, no questions asked, and no harm done! Of course, there are some rules that go along with having such a list...which I will share with you.
You must have named the "person of desire" previously. If you walk into a room, and see a famous person...you are not allowed to change the list at a moment's notice. (example...I cannot see Josh Duhamel in a restaurant, put him on my list...and then sneak off with him. That would be against the rules!)
We have a THREE PERSON LIMIT on our list.
We each have the right to change our list at anytime (the exception is mentioned in the first rule). Many times the list is modified after seeing a movie, concert, or magazine spread...then our conversation goes like this...."Wow, that was a great movie. (

F

ill in celebrity name)

is now on my LIST!"
It has to be a famous person...or at least someone where there really is no chance of ever actually meeting, let alone having "relations" with.
Want to know our most current LISTS? I thought you did.
Dear Josh,
Although you have a bad-boy image, and there are rumors you have not been faithful to Fergie, I am ok with that! It is not like I want to marry you! Because of you, watching Ramona and Beezus with my daughter 1,000 times is bearable!
Love,
The Hockey Wife
Dear Matt,
Um, not only are you delicious amazing to look at, your moves movies are good too. When I see you in celebrity gossip magaziness, it is because you are having another child with that wife of yours. You are such a family man...maybe we will meet one day at Chuck E Cheese! (wink, wink)!
Love,
The Hockey Wife
Dear Sting,
You have been on my list from the beginning. In fact, you are the reason for this list! I had thought about putting you in my wedding vows..."In sickness and in health, until death or a fabulous chance meeting with Sting do us part". But my husband thought that was taking it a bit too far.
Be still my beating heart,
The Hockey Wife
As for my husband's list....
Julia Ormond (I know...who?) She has been on the list since the beginning for him
Angie Harmon delivered an ESPN award on TV, and my husband could only say "WOW"...she was put on the list that night.
Marisa Tomei.
(Funny thing is that people say I look like her...but not in this photo!)
**As I was typing this blog, I had sent a text to my husband to verify his list. I will transcribe it below:
(sent by me)
Aside from Julia Ormond, who is on your list? very important
(husband's reply)
Did u just meet Sting?
WHO WOULD YOUR THREE PICKS BE FOR YOUR LIST?