It's time to clean out the closet with FTLOB...and I am sharing an embarrassing story I usually like to keep hanging in the back of the "closet" with all my pre-baby clothes!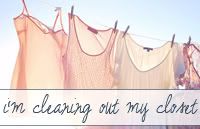 About eight years ago, my husband was invited to play in the Adam Oates Golf Classic.
This was long before we had children and I am not sure if we were even married at the time. If I remember correctly, the tournament was on a Saturday afternoon. I was working as a flight attendant, and was based in a different city than were living that summer. On my days off, I would often drive the three hours it took to get back home. For some reason on this day I had decided to just hop on a quick (and free) flight home.
photo from kcelebration.blogspot.com
Since the golf tournament was somewhat close to the airport, and since my husband would be golfing all day, the plan was that he would leave the car in short-term parking and I would just drive the remaining forty minutes home by myself.
As a flight attendant, we were allowed to stand-by for airline pass-travel. If there was room on the plane, we could take the seat. As with many perks, there were a few rules you had to follow if you were standing-by for a first-class seat. You were not allowed to wear denim and there were to be no sandals or open-toe shoes. I usually travelled in my comfortable, non-wrinkle black pants, and that day I had paired it with a white blouse. It paid off, as I was sitting pretty in my first class seat!
I landed, located the car, and gave my husband a call to let him know I was on the ground and headed home. The conversation went like this
"Hey Babe, I am in the car and on my way home."
"You should stop by the golf course on your way home and have dinner here."
"Oh no, I am exhausted and have been flying all day...I am not even dressed for a fancy dinner."
"What do you mean? Everyone has been golfing all day, and we are all in shorts and golf shirts. It is not fancy at all."
"Yes, I swear!...Come stop by and have some dinner."
I was a definitely hungry....so I headed toward the golf course to see my husband and have some food!
When I arrived, I noticed that there were other wives just arriving as well. So this is how it worked...our husbands played golf all day, and we joined them later for dinner and drinks. Not a bad deal. But there was something else I noticed. These ladies looked like they had lounged at the pool all day, and then showered, did their hair and make-up, and put on cute sundresses.
They certainly didn't look like they were serving sodas and peanuts to people all day while 25,000 miles in the air. But at least I didn't stand out in my pants and blouse...I actually fit right in!
That is right, I looked like I was part of the evening's waitstaff! I whispered to my husband how I should not have come dressed the way I was...he told me I was being silly, and it was all in my head. I decided he was right, it had to be obvious I was there as an invited guest...
"Yes?"
"Could I please get a Gin and Tonic?"
"Yes?"
"Could you open the humidor for me?"
That is right....I was mistaken TWICE that evening by guests who assumed I was there to serve them. I was mortified, and I felt like I was going to die. There could be nothing more embarrassing than going to a post-golf-outing cocktail party dressed like a waitress!...or was there?
When it was finally time to leave, my husband had to go into the locker room to get his clothes and golf shoes. I stood waiting for him, anxious to get out of there. As I was waiting, a nice man came up to me. (
Please don't ask for a drink! Please don't ask for a drink!
) As we made small talk, I was relieved to have a nice conversation with a fellow guest. Our conversation went something like this...(His words are in
blue
, and my words are in
red)
.
"Fine thank you."
(unimportant small talk ensued, I will spare you the discussion on the weather!)
"So, are you involved in hockey in any way?"
"Um yes...I am Adam Oates and this is my tournament!"
I was so embarrassed! Had I just insulted the man who was hosting this golf tournament? I stood there in shock, how was I to know who he was...I don't pay attention to hockey. I instantly went into survival mode...it was the only way to escape this horrible situation I was in.
"Can I get you a Gin and Tonic, Sir?"