I got an email the other day, informing me that I was selected as
Featured Blogger of the Week
for the
We Are Canadian Blog Hop
, a hop I try to participate in each Monday! I have never done a link-up on my site, and I am excited to discover some new blogs! I apologize to some of my U.S. readers, as this blog hop is for Canadians (or those living in Canada) only.
But don't let this stop you from visiting some of the linked blogs and discover a few new reads yourself....in fact, leave them a comment when you are there, and they too might discover
your
fabulous blog.
If you are still confused as to whether you qualify to link your blog up, I have put together a small quiz. Depending on your answers...you will discover if you are Canadian enough to link your blog. Let's start!
1. When you are in the grocery store, and you order at the deli counter...do you order:
a) 1/4 pound of shaved ham
b) 100 grams of smoked meat
2. You are out and have a full bladder. You search for the nearest...
a) Restroom
b) Washroom
3. Does your milk come in a...
a) carton
b) bag
4. What letter is this "Z"?
a) the letter Z pronounced (zēē)
b) the letter Z pronounced (zěd)
5. What is written below in the colour red?
a) zip code
b) postal code
6. Is there a misspelling in number 5's question?
a) yes
b) no
** Bonus Questions
What is a Double-Double?
What is a Two-Four?
Do Smarties candies melt?
If you mainly answered the
a's
....I am sorry you are not Canadian enough to link up. But feel free to click on the blogs and find out that a
double-double
is two creams and two sugars in a Timmy Horton's coffee. A
Two-Four
is a term for a case (24) of beer, and
Smarties
DO melt. They are a candy-coated chocolate disc (like m&m's)...they are not the tart powdered discs, as those are referred to as Rockets.
Are you still here? Did you answer mainly
b's
? Congratulations you are Canadian!
Now scroll down and link up!
I would love to hear from you, and have an opportunity to discover your blog! Feel free to browse through my blog as I navigate through a life that is dictated by my husband's career in hockey....and discover that sometimes I like to dictate my own life as well!
Welcome to the weekly "We are Canadian Blog Hop!!" Your co-hosts for this fun weekly Monday Hop are:
This Week's Featured Blogger is:
Please feel free to grab the button, and spread the word to all your fellow Canadians!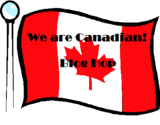 Rules:
1. Canadians Only! (Sorry Americans, we wanted to give the Canadians some love for this one.)
2. Follow the Co-hosts, and leave a comment so we will follow you back!
3. Follow the Featured Blogger, and leave a comment so they can follow you back!